Access & Parents Engagement Officer Wanted!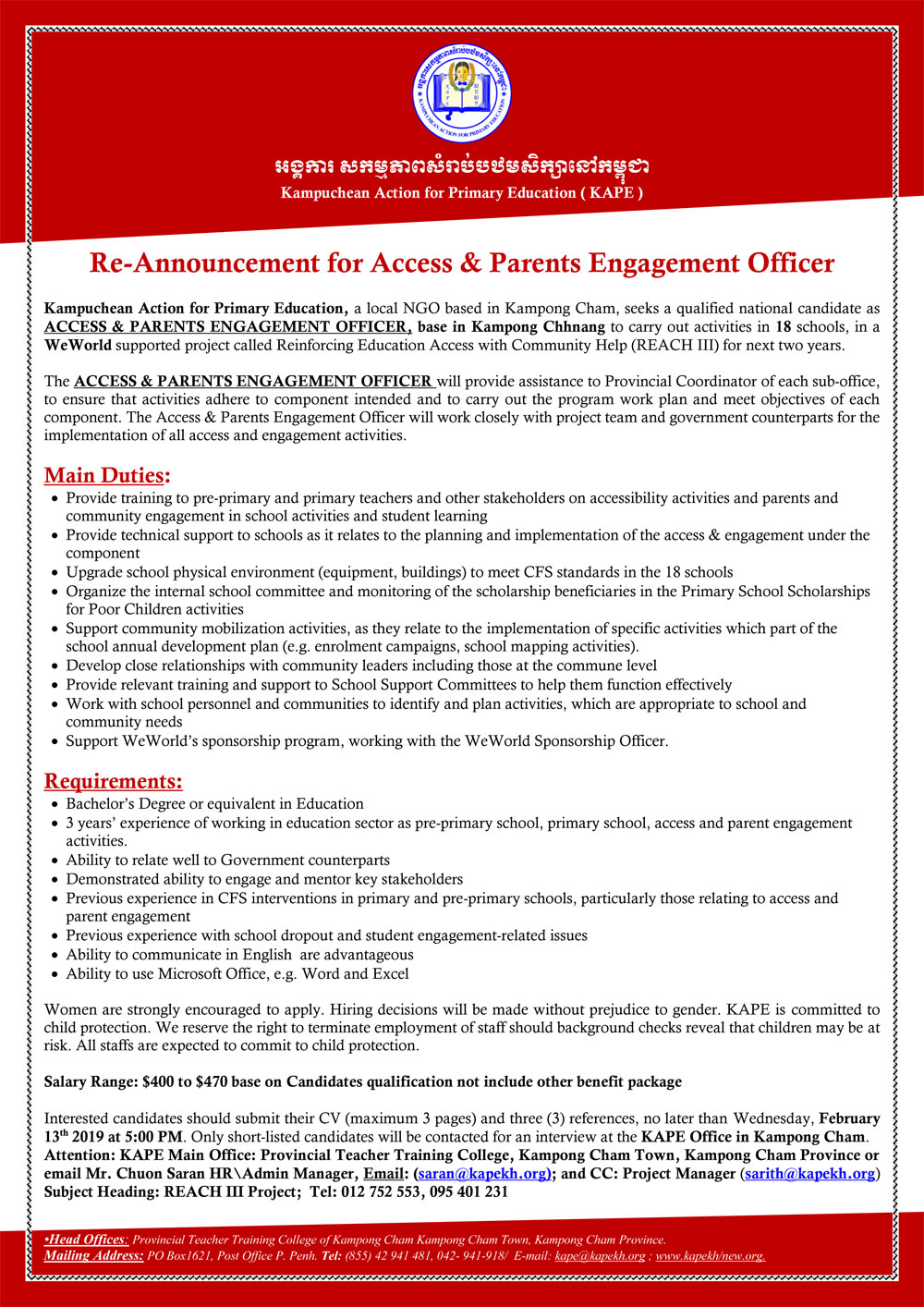 Kampuchean Action for Primary Education, a local NGO based in Kampong Cham, seeks a qualified national candidate as ACCESS & PARENTS ENGAGEMENT OFFICER, base in Kampong Chhnang to carry out activities in 18 schools, in a WeWorld supported project called Reinforcing Education Access with Community Help (REACH III) for next two years.
The ACCESS & PARENTS ENGAGEMENT OFFICER will provide assistance to Provincial Coordinator of each sub-office, to ensure that activities adhere to component intended and to carry out the program work plan and meet objectives of each component. The Access & Parents Engagement Officer will work closely with project team and government counterparts for the implementation of all access and engagement activities.
Main Duties:
Provide training to pre-primary and primary teachers and other stakeholders on accessibility activities and parents and community engagement in school activities and student learning
Provide technical support to schools as it relates to the planning and implementation of the access & engagement under the component
Upgrade school physical environment (equipment, buildings) to meet CFS standards in the 18 schools
Organize the internal school committee and monitoring of the scholarship beneficiaries in the Primary School Scholarships for Poor Children activities
Support community mobilization activities, as they relate to the implementation of specific activities which part of the school annual development plan (e.g. enrolment campaigns, school mapping activities).
Develop close relationships with community leaders including those at the commune level
Provide relevant training and support to School Support Committees to help them function effectively
Work with school personnel and communities to identify and plan activities, which are appropriate to school and community needs
Support WeWorld's sponsorship program, working with the WeWorld Sponsorship Officer.
Requirements:
Bachelor's Degree or equivalent in Education
3 years' experience of working in education sector as pre-primary school, primary school, access and parent engagement activities.
Ability to relate well to Government counterparts
Demonstrated ability to engage and mentor key stakeholders
Previous experience in CFS interventions in primary and pre-primary schools, particularly those relating to access and parent engagement
Previous experience with school dropout and student engagement-related issues
Ability to communicate in English are advantageous
Ability to use Microsoft Office, e.g. Word and Excel
Women are strongly encouraged to apply. Hiring decisions will be made without prejudice to gender. KAPE is committed to child protection. We reserve the right to terminate employment of staff should background checks reveal that children may be at risk. All staffs are expected to commit to child protection.
Salary Range: $400 to $470 base on Candidates qualification not include other benefit package
Interested candidates should submit their CV (maximum 3 pages) and three (3) references, no later than Wednesday, February 13th 2019 at 5:00 PM. Only short-listed candidates will be contacted for an interview at the KAPE Office in Kampong Cham.
Attention: KAPE Main Office: Provincial Teacher Training College, Kampong Cham Town, Kampong Cham Province or email Mr. Chuon Saran HR\Admin Manager, Email: (saran@kapekh.org); and CC: Project Manager (sarith@kapekh.org) Subject Heading: REACH III Project; Tel: 012 752 553, 095 401 231
146
Primary Schools

19
High Schools

71000
Students

1650
Teachers/Directors

142000
Stakeholders