Project Officer Urgently Wanted!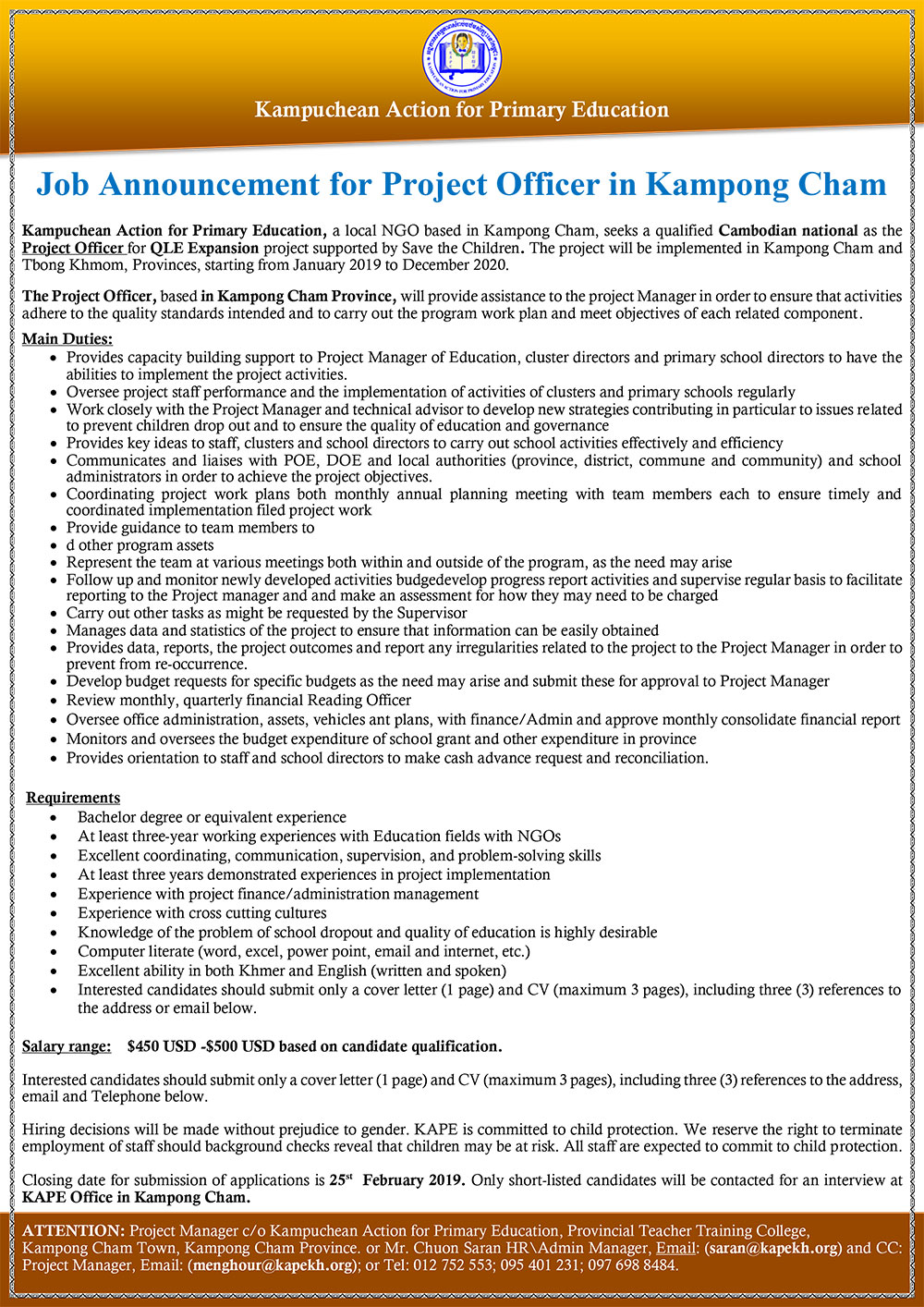 Kampuchean Action for Primary Education, a local NGO based in Kampong Cham, seeks a qualified Cambodian national as the Project Officer for QLE Expansion project supported by Save the Children. The project will be implemented in Kampong Cham and Tbong Khmom, Provinces, starting from January 2019 to December 2020.
The Project Officer, based in Kampong Cham Province, will provide assistance to the project Manager in order to ensure that activities adhere to the quality standards intended and to carry out the program work plan and meet objectives of each related component.
Main Duties:
Provides capacity building support to Project Manager of Education, cluster directors and primary school directors to have the abilities to implement the project activities.
Oversee project staff performance and the implementation of activities of clusters and primary schools regularly
Work closely with the Project Manager and technical advisor to develop new strategies contributing in particular to issues related to prevent children drop out and to ensure the quality of education and governance
Provides key ideas to staff, clusters and school directors to carry out school activities effectively and efficiency
Communicates and liaises with POE, DOE and local authorities (province, district, commune and community) and school administrators in order to achieve the project objectives.
Coordinating project work plans both monthly annual planning meeting with team members each to ensure timely and coordinated implementation filed project work
Provide guidance to team members to
d other program assets
Represent the team at various meetings both within and outside of the program, as the need may arise
Follow up and monitor newly developed activities budgedevelop progress report activities and supervise regular basis to facilitate reporting to the Project manager and and make an assessment for how they may need to be charged
Carry out other tasks as might be requested by the Supervisor
Manages data and statistics of the project to ensure that information can be easily obtained
Provides data, reports, the project outcomes and report any irregularities related to the project to the Project Manager in order to prevent from re-occurrence.
Develop budget requests for specific budgets as the need may arise and submit these for approval to Project Manager
Review monthly, quarterly financial Reading Officer
Oversee office administration, assets, vehicles ant plans, with finance/Admin and approve monthly consolidate financial report
Monitors and oversees the budget expenditure of school grant and other expenditure in province
Provides orientation to staff and school directors to make cash advance request and reconciliation.
Requirements
Bachelor degree or equivalent experience
At least three-year working experiences with Education fields with NGOs
Excellent coordinating, communication, supervision, and problem-solving skills
At least three years demonstrated experiences in project implementation
Experience with project finance/administration management
Experience with cross cutting cultures
Knowledge of the problem of school dropout and quality of education is highly desirable
Computer literate (word, excel, power point, email and internet, etc.)
Excellent ability in both Khmer and English (written and spoken)
Interested candidates should submit only a cover letter (1 page) and CV (maximum 3 pages), including three (3) references to the address or email below.
Salary range: $450 USD -$500 USD based on candidate qualification.
Interested candidates should submit only a cover letter (1 page) and CV (maximum 3 pages), including three (3) references to the address, email and Telephone below.
Hiring decisions will be made without prejudice to gender. KAPE is committed to child protection. We reserve the right to terminate employment of staff should background checks reveal that children may be at risk. All staff are expected to commit to child protection.
Closing date for submission of applications is 25st February 2019. Only short-listed candidates will be contacted for an interview at KAPE Office in Kampong Cham.
ATTENTION: Project Manager c/o Kampuchean Action for Primary Education, Provincial Teacher Training College, Kampong Cham Town, Kampong Cham Province. or Mr. Chuon Saran HR\Admin Manager, Email: (saran@kapekh.org) and CC: Project Manager, Email: (menghour@kapekh.org); or Tel: 012 752 553; 095 401 231; 097 698 8484.
Please click here to download the full job description [PDF]
146
Primary Schools

19
High Schools

71000
Students

1650
Teachers/Directors

142000
Stakeholders