Proactive Learning Project (PLP)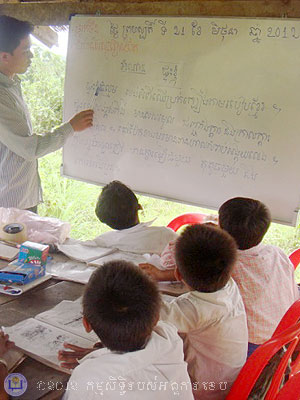 Project Description
The Proactive Learning Project is an 18-month intervention, which started in July 2012, aiming to improve the access and quality of education in 10 target primary schools within two clusters in Pailin province.
The main objective of the intervention is to increase "Pro-active" primary school attendance and to create an environment in which every child feels able to "fully participate" in education, through the implementation of the "Child Friendly School" approach.
Specifically, the project is expected to guarantee:
Improved access, attendance and retention by making educational services more inclusive, particularly with respect to vulnerable children, children with special needs and girls.
Development of suitable psycho-social learning environments within the classroom, which are highly conducive to the holistic development of the child, including mental, emotional and material aspects.
Enhanced health practices and environment related to hygiene, sanitation, and important health issues in schools and communities
Gender awareness, gender balance and gender equality among school pupils.
Direct beneficiaries:
368 children at high risk of early school drop-out, attending the 2 core schools that directly benefit
350 poor families whose children are at high risk of dropping out
90 teachers in the area of intervention that are deficient in terms of teaching methods
Indirect beneficiaries:
2500 children at high risk of dropping out (from the other 8 schools that make up the school clusters)
2300 poor families whose children are at high risk of dropping out
The project is funded by the Italian Government, through the Commission for International Adoptions. Centro Italiano Aiuto all'Infanzia (CIAI) is the lead agency in the project, with implementation being supported by KAPE.
PLP Supported by
42
Preschool(s)
172
Primary Schools

110
High Schools

6
Higher Education Institutions

120,831
Students

2,806
Teachers/Directors

1,496
Stakeholders