New Generation Pedagogical Research Center (NGPRC)

What is the New Generation School Training Center?
Important Facts
The Master's Degree Program in Professional Ethics, Teaching, & Mentoring is intended for any state teacher working in a government secondary school.
Admitted candidates will pay no tuition costs.
Candidates must have a strong grasp of both written and spoken English as most course materials will be in the English Language.
Admitted candidates will study in a seminar format with not more than 13 students per class. Discussions, group work, and frequent presentations will be an important feature of the course.

MoEYS is building a new modern facility to house the center complete with seminar rooms, study corners, study gardens, lobby cum library, and student lounge.The center is scheduled for

completion in October 2019.
The center is scheduled for completion in October 2019
The New Generation School Training Center is an autonomous unit within the National Institute of Education that has been empowered by the Ministry of Education, Youth, & Sport to confer a Master's Degree of Education in Professional Ethics, Teaching, & Mentoring upon graduates who successfully complete a one-year course of study. The course is 'intensive' and comprises 30 modules of 1 credit each plus a 2-month practicum of 15 credits that will be set at the New Generation School at Preah Sisovath HS & Prek Leap HS in Phnom Penh.
Purpose
The Ministry of Education, Youth, & Sport has established the NGSTC to enable the expansion of New Generation Schools, which are autonomous public schools that receive high investment from government and demand high standards of the teachers that work there.
Vision
The Center's Vision is to change the character of Cambodian schools so that there is a built-in mechanism animated by experienced school-based 'Mentors' who can help teachers grow both professionally and morally to make their schools exciting and engaging places to learn.
Mission
The New Generation School Training Center seeks to train teachers who are already strong in their practice of teaching to understand how to mentor other teachers in a way that is effective and non-threatening.
Curriculum Framework
The curriculum framework of the Center features 4 Modular Streams comprising a total of 30 modules and 89 subtopics. Students will study the modular program for 9 months followed by a 2-month practicum where they will practice Mentoring Techniques using the latest educational software. The Course is designed to be cutting edge and includes many high tech features to bring Cambodia's education system into the 21st Century.
The modular program comprises 4 Curricular Streams as follows:
Professional Ethics & Mentoring: These modules cover the basis for ethics in the teaching profession and uses many interactive materials such as videos and software to frame provocative discussions. This is followed by modules on how to become a good mentor in any context including when working with younger or older teachers or any subject.
English for Research: These modules help to acquaint trainees with the nature of research and to read the many articles that they will encounter as part of their reading assignments. The module prepares students to prepare a Mini-thesis that will count towards the degree requirements of the Center.
ICT in Education: These modules introduce trainees to the many educational software programs that are used in the New Generation School context and especially a new software called Observic that uses cutting edge techniques to support teachers in improving their own teaching practice.
General Methodological Systems & Principles: These modules help trainees to gain insight into how certain key methodologies such as Constructivist Learning, Cooperative Learning, and Project Work are effectively used in the New Generation School Setting. This knowledge will be critical to providing effective mentoring support to other teachers.
Important Things to Know!
Degree Program


Master's Degree in Professional Ethics, Teaching, & Mentoring

Start/End Dates


16 September 2019 to 31 August 2020

Location


Located in the NIE Campus in Phnom Penh
Some important documents as follows:
For More Information, Please Contact: Dr. Chan Roath, Center Manager, Email: chan.roath@moeys.gov.kh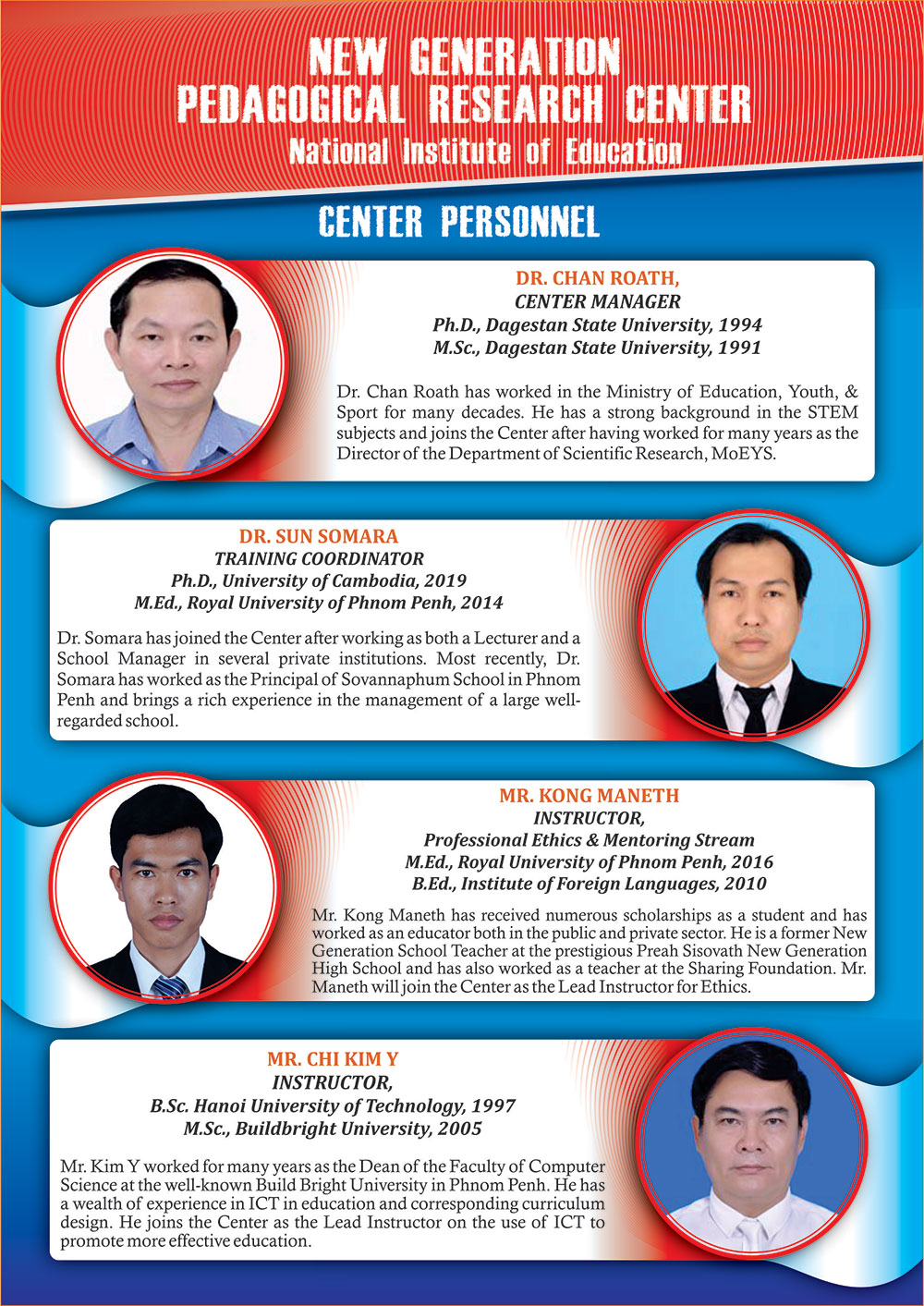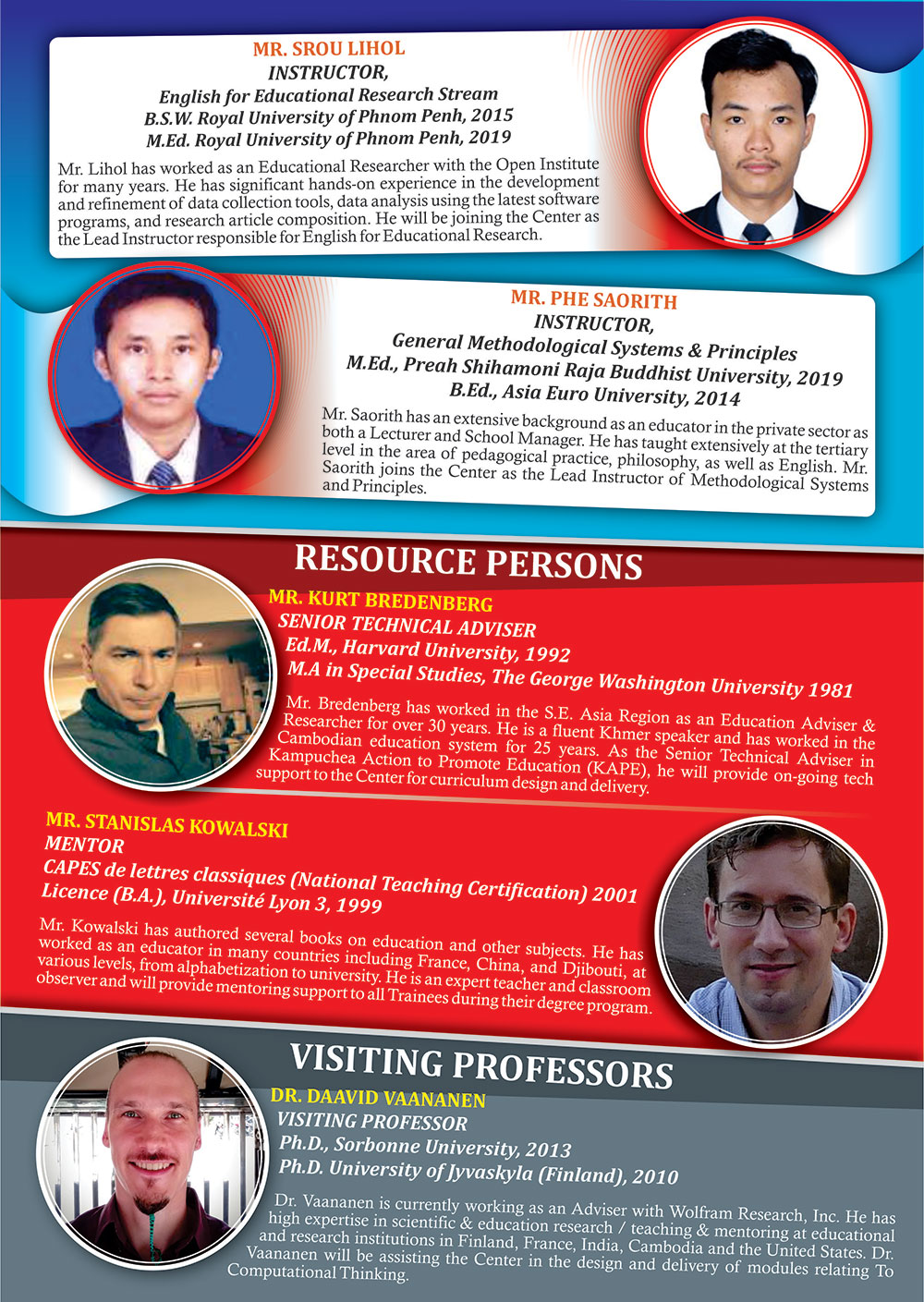 Supported by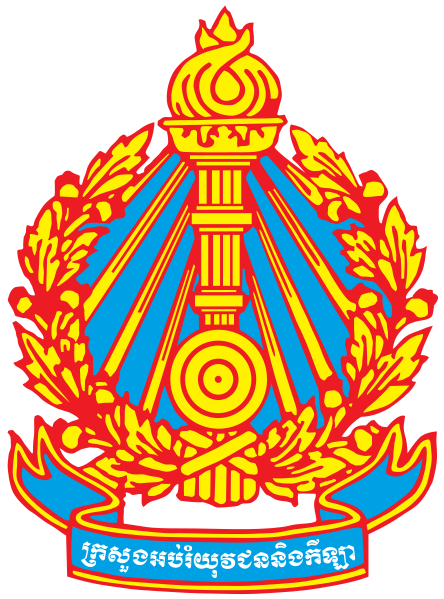 42
Preschool(s)

172
Primary Schools

110
High Schools

7
Higher Education Institutions

120,831
Students

2,806
Teachers/Directors

1,496
Stakeholders