District Project Officer for HCC Project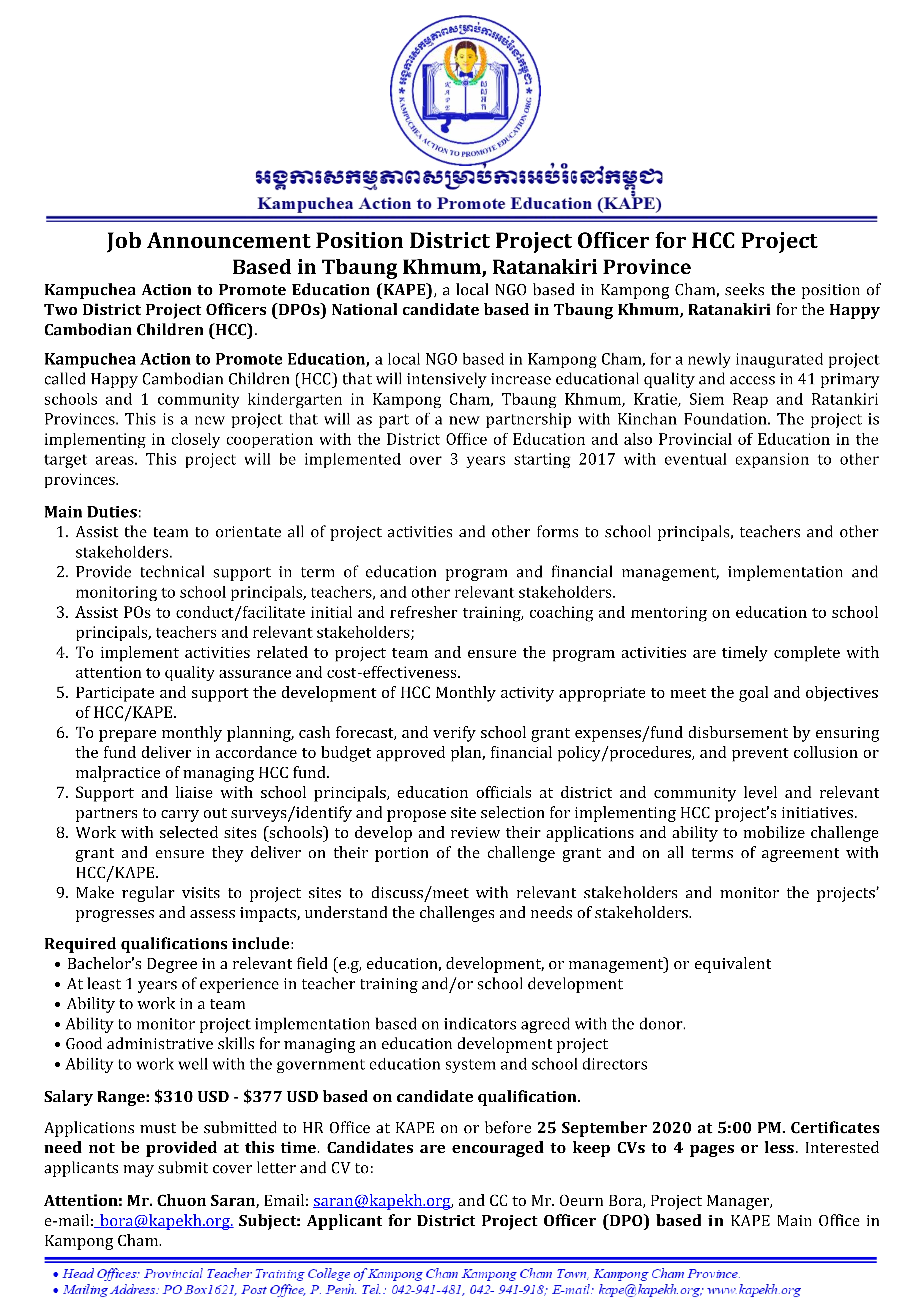 Kampuchea Action to Promote Education (KAPE), a local NGO based in Kampong Cham, seeks the position of Two District Project Officers (DPOs) National candidate based in Tbaung Khmum, Ratanakiri for the Happy Cambodian Children (HCC).
Kampuchea Action to Promote Education, a local NGO based in Kampong Cham, for a newly inaugurated project called Happy Cambodian Children (HCC) that will intensively increase educational quality and access in 41 primary schools and 1 community kindergarten in Kampong Cham, Tbaung Khmum, Kratie, Siem Reap and Ratankiri Provinces. This is a new project that will as part of a new partnership with Kinchan Foundation. The project is implementing in closely cooperation with the District Office of Education and also Provincial of Education in the target areas. This project will be implemented over 3 years starting 2017 with eventual expansion to other provinces.
Main Duties:
Assist the team to orientate all of project activities and other forms to school principals, teachers and other stakeholders.
Provide technical support in term of education program and financial management, implementation and monitoring to school principals, teachers, and other relevant stakeholders.
Assist POs to conduct/facilitate initial and refresher training, coaching and mentoring on education to school principals, teachers and relevant stakeholders;
To implement activities related to project team and ensure the program activities are timely complete with attention to quality assurance and cost-effectiveness.
Participate and support the development of HCC Monthly activity appropriate to meet the goal and objectives of HCC/KAPE.
To prepare monthly planning, cash forecast, and verify school grant expenses/fund disbursement by ensuring the fund deliver in accordance to budget approved plan, financial policy/procedures, and prevent collusion or malpractice of managing HCC fund.
Support and liaise with school principals, education officials at district and community level and relevant partners to carry out surveys/identify and propose site selection for implementing HCC project's initiatives.
Work with selected sites (schools) to develop and review their applications and ability to mobilize challenge grant and ensure they deliver on their portion of the challenge grant and on all terms of agreement with HCC/KAPE.
Make regular visits to project sites to discuss/meet with relevant stakeholders and monitor the projects' progresses and assess impacts, understand the challenges and needs of stakeholders.
Required qualifications include:
Bachelor's Degree in a relevant field (e.g, education, development, or management) or equivalent
At least 1 years of experience in teacher training and/or school development
Ability to work in a team
Ability to monitor project implementation based on indicators agreed with the donor.
Good administrative skills for managing an education development project
Ability to work well with the government education system and school directors
Salary Range: $310 USD - $377 USD based on candidate qualification.
Applications must be submitted to HR Office at KAPE on or before 25 September 2020 at 5:00 PM. Certificates need not be provided at this time. Candidates are encouraged to keep CVs to 4 pages or less. Interested applicants may submit cover letter and CV to:
Attention: Mr. Chuon Saran, Email: saran@kapekh.org, and CC to Mr. Oeurn Bora, Project Manager,
e-mail: bora@kapekh.org. Subject: Applicant for District Project Officer (DPO) based in KAPE Main Office in Kampong Cham.
42
Preschool(s)

172
Primary Schools

110
High Schools

7
Higher Education Institutions

120,831
Students

2,806
Teachers/Directors

1,496
Stakeholders